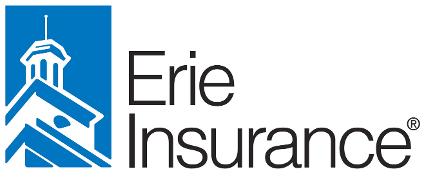 The Story of ERIE is the story of entrepreneurship in America
When H.O. Hirt and O.G. Crawford decided to start an insurance exchange in 1925, they wanted to base it on "simple common sense, mixed with just plain decency." They turned to the Golden Rule – Do unto others as you would have them do unto you – as a guiding principle for a new endeavor they named "Erie Insurance" after their hometown of Erie, Pa.
The two entrepreneurs spent months drumming up support for their new company, with nothing but their axiom and a business plan to sell car insurance scribbled on a 10-cent tablet. On April 20, 1925, their fundraising concluded and nearly 90 years of service and innovation began.
A scant three years after opening for business, ERIE was already expanding. A second office was opened in Pittsburgh, Pa., in 1928. The company took its first steps outside Pennsylvania in 1953 when it opened a branch in Silver Spring, Md. By the new millennium, ERIE was operating in 11 states and the District of Columbia.
At the same time ERIE was expanding its territories, it also expanded its offerings. The company initially carried only auto insurance, but added fire insurance in 1940, and inland marine in 1954. ERIE made the leap into a true multi-line insurance company in 1961, when it introduced its first homeowners insurance policy. They started selling business insurance two years later, and life insurance was added to round out ERIE's offerings in 1967.
ERIE has come a long way since insuring its first driver. Today, it is a FORTUNE 500 company with nearly 4.8 million policies protecting individuals, families and businesses. While their size has changed, their commitment to service – modeled by ERIE employees and agents – has not.
As this year's premier corporate sponsor for the Annual Schaumburg Firefighter's Pink Tie Ball, we have had found ERIE to be champions of excellence, compassion and dedication. We're fortunate to partner with ERIE in the fight against breast cancer."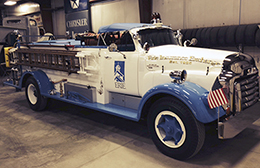 ERIE now has a fire truck that is ready to roll through the parade and festival season.
It's a 1955 GMC fire truck restored and painted blue and white. The truck is available for community events in a 50- to 75-mile radius from the Home Office.
"I thought this vintage fire truck painted in ERIE blue would be a great way to promote our company, especially since it represents a big part of the protection that we provide," says President and CEO Terry Cavanaugh, who purchased the truck. "I was a volunteer firefighter for several years and always enjoyed the memorabilia of the profession."
The fire truck comes to ERIE from Carmel, Ind., and was restored locally in Erie, Pa